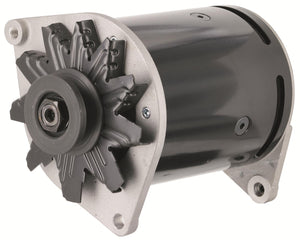 Powermaster PowerGEN Alternators 82101
Regular price $689.09 Sale
Brand:

Powermaster

Manufacturer's Part Number:82101
Part Type:Alternators and Generators
Product Line:

Powermaster PowerGEN Alternators

Advertised Amperage Output:90 amps
Voltage Compatibility:12
One-Wire Capable:Yes
Pulley Included:Yes
Pulley Style:V-belt
Alternator Case Style:Generator
Regulator Included:Yes
Regulator Style:Internal
Belt Included:No
Alternator Brackets Included:No
Alternator Finish:Black powdercoated
Quantity:Sold individually.
Notes:Ford swing mount design. One wire hookup only. Includes a 3/8 in. width pulley. Does not have lamp terminal.
Powermaster PowerGEN alternators feature all of the quality construction and dependability the company is known for. They combine the looks of a generator with the output and reliability of an alternator. PowerGEN units offer one-wire operation, producing up to 90 amps, with a whopping 60 amps at idle—and a regulator is included with nearly all models. Alternators are available in either black powdercoated or polished finishes. Order the Powermaster PowerGEN replacement designed for use on your vehicle application.