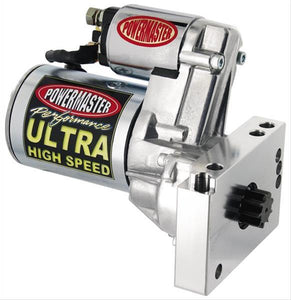 Powermaster Ultra Torque High-Speed Starters 9450
Regular price $598.18 Sale
Brand:

Powermaster

Manufacturer's Part Number:9450
Part Type:Starters
Product Line:

Powermaster Ultra Torque High-Speed Starters

Starter Style:Stock
Adjustable Mounting Block:Yes
Starter Rotation:Standard
Starter Finish:Natural
Maximum Recommended Compression Ratio:15.0:1
Gear Reduction Ratio:3.75:1
Mounting Block Material:Billet aluminum
Quantity:Sold individually.
Notes:Starter bolts and shims are included.
These Powermaster Ultra Torque high-speed starters deliver 20 percent more cranking rpm at the flywheel than the standard Ultra Torque starters. They are perfect for use in blown alcohol engines, or any engine requiring higher than normal cranking speed. The starters have a 100 percent new design and are manufactured in the USA. The Powermaster Ultra Torque high-speed starters feature a 2.5 kW, 3.4 hp motor and have a machined aluminum adjustable mounting block. They will fit all oversized and kickout-style oil pans with no clearance problems.