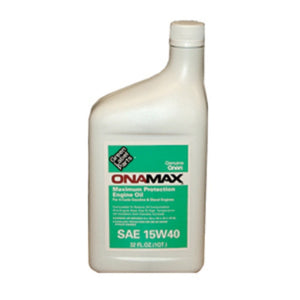 Onan Cummins 326-5336 OEM RV OnaMax 1 Quart Bottle Engine Oil 15W40 1 QT
Regular price $17.95 Sale
Onan Cummins 326-5336 OEM RV OnaMax 1 Quart Bottle Engine Oil 15W40 1 QT
Get your RV's maximum performance by using this Onan Cummins OnaMax Engine Oil. This SAE 15W-40 oil is specially formulated to prevent engine wear and oil oxidation while maintaining the performance of both your engine and generator. This Cummins Onan Oil prevents your engine from breaking down due to malfunction caused by overheating. This item is sold in 32. fl. Oz., stored in an easy-pour container that makes it easier to transfer the oil to your RV's oil storage. This item is an original product of Onan. A full line of Onan RV accessories and replacement parts are also available.
_ PROTECTS YOUR CAR FROM ENGINE WEAR - Takes care of your engine from effects of high temperature, viscosity increase and oil oxidation.
_ REDUCES OIL CONSUMPTION - Specially formulated to lessen oil consumption, as well as engine wear.
_ RECOMMENDED USE - Best used for water or air-cooled gasoline or diesel engine vehicles to maximize its benefits.
_ COMPACT & EFFICIENT BOTTLE - Comes with easy-pour one-quart bottle for easy content displacement and as a reserve for a long trip.
_ BEST FOR RV GENERATOR ENGINES - This is a factory tested protection engine oil that can be used to your RVs.