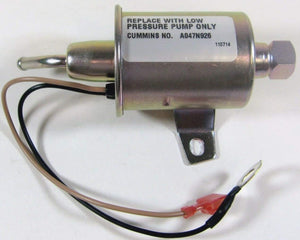 Onan Cummins A064S966 Genuine OEM Fuel Pump 12VDC ( Replaces A047N926 & A029F889 )
Regular price $359.00 Sale
Cummins Onan part # A047N926 (replaces A047N926 & A029F889 )
This Cummins Onan replacement part fits the following RV QG Series or Microlite/Microquiet model: KY. Also fits models MKY and KYD (begin Spec J). Please use a breakdown to verify the manufacturer's part number for your model or call for assistance.
When reliability counts, insist on the real thing. From filters to tune-up kits, Genuine Cummins Onan Green Label Parts are made to exact product specifications to maximize the power output and life of your Cummins Onan RV generator. They are available from all certified Cummins Onan RV service and parts dealers.
Cummins Onan parts differ from "will-fit" parts
Don't settle for aftermarket or "will-fit" parts. Genuine Cummins Onan parts offer the durability and performance you have come to expect from Cummins Onan. They're the original. The following include some of the parts you'll become accustomed to checking and changing as part of your maintenance routine, as well as the reasons for choosing Cummins Onan parts.