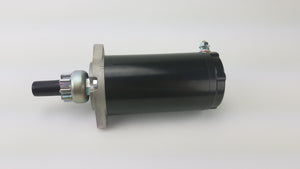 Aftermarket Starter, replaces Generac 070954
Regular price $249.00 Sale
New 12V starter motor replaces Johnson Electric  69293  and 6929340MO30SM, Generac 70954 and 070954, and Kohler starter # 5009801 or 50-098-01.  Also replaces Quicksilver 50-810582.  However, if you have any doubt, please contact us before ordering for Quicksilver generators, since you may need an adapter.
NOTE: We do not recommend this starter for a diesel engine, as they require a lot more torque to turn them over, and this one may not be as strong as the original.  However, we realize that some of the Generac diesels take the 070954 starter, and the original is obsolete, so there may not be any other choice.  In this case, you are buying at your own risk, because if this starter fails due to over-heating, it will likely void the warranty. If you can use synthetic engine oil for less friction, and try not to start a cold engine, and only crank for 3-6 seconds, then allowing the starter to cool between attempts, you may make out OK.  We just need to make the disclaimer.
Having said that, this works great on gas engines that call for the 070954.  We have also sold this to fit a Kohler L654 engine on some older generators.  It replaces Kohler starter # 5009801 or 50-098-01 as well.
Approx. 3.5" center to center bolt pattern on mounting flange.
The inner circle you see is approx. 2 7/16". The distance from the front face of flange to front of the bendix gear is about 1 1/2".