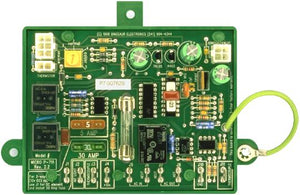 Dinosaur Electronics MicroP711 Aftermarket Replacement for Norcold
Regular price $237.00 Sale
Features:
Built in surge protection. Protects from installation errors and the RV Power supply.

Fuse protected on the 120 VAC circuit, 12 VDC supply and the DC element.

Improved thermocouple circuit to eliminate recurring check light problem.

Food saver feature keeps the refrigerator operating if the eyebrow board or communication link fails.

Built in control allows temperature adjustment in the "Dumb Eyebrow" fixed temperature Americana and
      Freedom series refrigerators.

The temperature control also allows compensation for aging and production variations in those units
      that have the -1-2-3-4-5- "Smart Eyebrow" temperature control on the operator panel.
Built in microcontoller for highly reliable operation

Universal 2-way or 3-way (AC / DC / Gas) operation

Install optional fuse (provided) for 3-way operation
Replaces Control Boards:
NDR1062,1272 1492 ,2652,2852,2807
2607,2820,7732,7030,3863,3862,7132612,2812