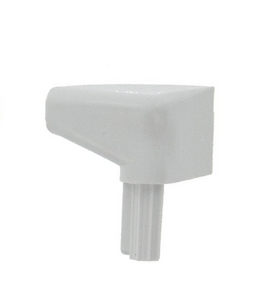 Fleetwood 518961 OEM RV Right Hand Drip Rail End Cap Attachment - Unit Fitted
*note* End caps may vary slightly in color.  We recommend spray painting units to fit desired coloring. 
Pro Tip:  If you need a set of two drip rail end caps (right and left side), please look at our product # / SKU 518961/518962; it is the most popular way RVers order this product.  Most people replace both at the same time.  However, if you only need a single left side or a single right side, please look at SKU / product # 518961 for the RIGHT side end cap only, or look at SKU / product # 518962 for the LEFT side end cap only. 
The Fleetwood 518962 Right Hand Drip Rail End Cap is made of durable and hard-wearing materials combined to offer longevity. Developed with a practical feature, ensuring the prevention of rainwater from entering the vehicle's rain gutter. It efficiently redirects water for effective extraction to help maintain a water-free gutter. Engineered and built with an overall dimension of 2 x 4 x 2 inches that fits easily and making it easy to install. Its convenient application delivers secure fastening for hassle-free maintenance.
Replace old and faulty RV parts and experience smoother travels with genuine replacement tools. Optimize the functionality of your vehicle with reliable solutions from the wide selection of Fleetwood accessories!
Conquer tough roads and experience traveling made easy with Fleetwood. Dedicated to building dependable motor coaches backed with quality and professional performance, making every motorhome moving in no time. Travel with security and make every adventure a memorable one.
" HARD-WEARING CONSTRUCTION - Made and built from quality materials, guaranteed to offer durability for longer lasting use. Designed to deliver sufficient support for maximum unit performance.
SECURED FITTING - Manufactured with a compact structure suitable for correct fitting, making it conveniently easy to install. Offers secure attachment for a hassle and worry-free maintenance.
CONVENIENT WATER EXTRACTION - Easily redirects and extracts water from every RV roof that prevents dirty rainwater from your vehicle and maintains cleanliness.