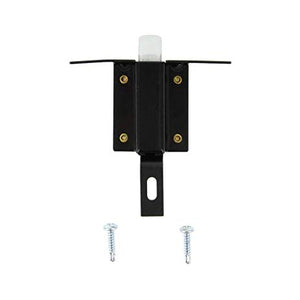 Fleetwood FN001 OEM RV Luggage/Baggage Style Latch Assembly - Aluminum Plunger, Dual Mounting Holes - Replacement Part and Accessory
Regular price $26.40 Sale
Keep your essentials and other household supplies safe and organized inside your RV's luggage compartment with the Fleetwood FN001 OEM RV Luggage/Baggage Style Latch Assembly. Constructed from heavy-duty materials, this latch assembly is designed to offer enhanced security with its locking mechanism that ensures secure safekeeping of your valuables. This latch catch is created suitable for various baggage compartment doors and serves as a replacement to broken locks of different luggage compartments of campers or trailer trucks. It comes in a black finish designed to complement the design of most cabinets. Replacing dysfunctional locks at your mobile home will be easy with this latch catch lock that can easily be attached to surfaces with only a few screws.
_ HEAVY-DUTY HARDWARE - This latch assembly features a durable latch construction and an aluminum plunger that won't easily corrode or deteriorate, making it ideal to use on cabinets or baggage doors at your trailer.
_ UNIVERSAL COMPATIBILITY - Featuring a practical and versatile design, this baggage door latch has two holes in the mount face for seamless attachment to baggage doors of most RVs.
_ SECURE FASTENING - Ensure safekeeping of your belongings and other household items with this lock that securely fastens the doors of any storage compartments.
_ COMPLETE LATCH ASSEMBLY - The Fleetwood FN001 includes necessary hardware and wiring that facilitate quick and convenient installation of parts into a compartment door.
_ ORIGINAL EQUIPMENT MANUFACTURER - This baggage latch is a guaranteed OEM part made to deliver you with a reliable and high-performing product.