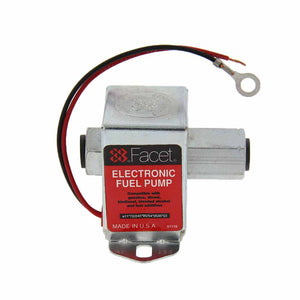 Generac 042700 OEM RV Generator Fuel Pump w/ Built-in Check & Anti-Siphon Valve
Regular price $852.50 Sale
Generac has been developing a wide range of top-quality equipment since 1959, providing optimum performance for all of your commercial and industrial needs. With its long-term vision to promote environmentally-responsible products, processes, and partnerships, you're bound to get yourself product options that are both fully functional and ecologically sustainable; a positive contributor of growth in the industry.
The Generac 042700 Fuel Pump is built to quality precision with original and carefully selected, hard-wearing materials delivering enhanced durability and reliability over time. This brand new electric Fuel Pump for Generac Onan and Kohler generators is developed exclusively for RV and marine use. It's also suitable as a universal pump for low-pressure fuel applications. It features a genuine facet pump with built-in check valve/anti-siphon valve and operates on 12 volts DC from starting battery.
Replaces Onan Fuel Pump models 149-2140, 149-2163 and 149-2036. Used in Emerald Generator Sets (BGE Spec A thru C, and NHE Spec A thru C); also 149-2145 (BGE Spec E and F and NHE Spec D and E) and in Microlite Generator Sets (Spec A).
Equip your RV with tools that deliver superior performance and optimum power control. With the wide range of high functioning parts and pieces that Generac offers, you and your family will enjoy smoother travels.
_
_ FUEL COMPATIBILITY - This authentic RV accessory exhibits an optimal performance and is suitable for leaded and unleaded gasoline, diesel fuel, blended alcohol fuels, and fuel additives.
_ SOLID STATE RELIABILITY - Features a heavy-duty structure that's proven to last four to five times longer than many other electric fuel pumps.
_ EASY INSTALLATION - Engineered with a two-bolt installation mechanism completed with a lightweight and compact construction that makes installation easy. For best results, mount the pump close to the fluid or fuel tank and below the liquid level.
_ ORIGINAL EQUIPMENT MANUFACTURER - This fuel pump is a guaranteed OEM part designed to deliver you with a reliable and high-performing product.