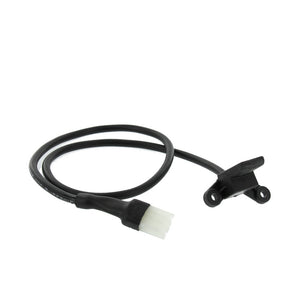 Generac 086697 OEM RV Assembly Ignition Sensor Magnetic Pick Up - Genuine Replacement Part for 86697 and 0866970SRV
Regular price $62.90 Sale
Navigate with ease wherever you go and take on the road with a well-maintained engine run equipped with the Generac 086697 OEM RV Assembly Ignition Sensor Magnetic Pick Up! Manufactured to ensure quality precision meets performance, this product guarantees to deliver you with enhanced durability and trusted reliability. This replacement part features a carefully assembly that supports Generac 86697 and 0866970SRV generator models. It is maximized with a magnetic pick-up mechanism to better suit your engine's flow for a safer and more secure drive. Boost your RV's performance with this original product of Generac and enhance your motorhome with guaranteed OEM parts made to provide you with the best quality performing product.
_ QUALITY CONSTRUCTION - Precisely built to deliver you with maximum durability using hard-wearing materials, providing you with a reliable product to last over time.
_ MAXIMUM PERFORMANCE - This Generac Ignition Sensor is built to support most Generac RV generators and engines designed to extend your engine's performance.
_ GUARANTEED REPLACEMENT PART - Assembled to precision. Suitable for Generac 86697 and 0866970SRV models, ensuring a safe and secure engine flow.
_ ORIGINAL EQUIPMENT MANUFACTURER - This Generac Ignition Sensor is a guaranteed OEM part designed to deliver you with a reliable and high-performing product.
_ SUPPLIES AND PARTS FOR MOTORHOMES - This item is an original product of Generac. A full line of Generac RV accessories and replacement parts are also available.