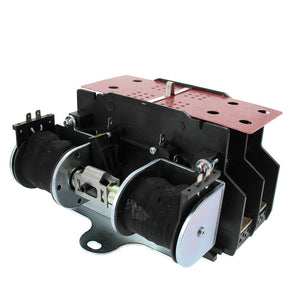 Generac 0L2911 OEM RV Generator Transfer Switch - Dual Pole 200A 250V - Replacement Part
Regular price $591.00 Sale
Conserve energy and just use them whenever it is needed with this Generac 0L2911 Transfer Generator Switch! Use this item so you can get the most out of your RV properties. It is made from durable and intelligently-designed OEM parts that perform the same with other brands competing in the market. When your refrigerator is starting to fail, this OEM replacement part from Generac will keep you from worrying too much about your RVs. A full line of Generac accessories and replacement parts are also available.
_ MADE TO LAST - Constructed from a sturdy, tough prime fibrous materials for enhanced durability and superior reliability.
_ SET TO CONTAIN THE ESSENTIALS TO REPAIR GENERATORS - This Generac / Guardian Transfer Switch Assembly is a brand new part that's perfect to fix RV generators.
_ EASY TO USE - This product should be used by professionals or somebody knowledgeable of the RV generator repairing process.
_ ORIGINAL EQUIPMENT MANUFACTURER - This replacement is a guaranteed OEM part to deliver you only with a reliable and high-performing product.
_ SUPPLIES AND PARTS FOR GENERAC ACCESSORIES - We have a wide selection of Generac RV parts and other accessories.