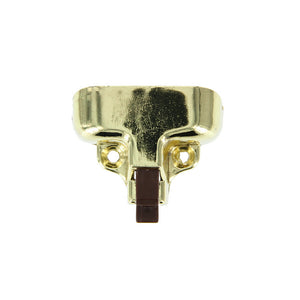 Jayco 0058270 OEM RV Cabinet Latch Catch Lock - Durable Construction, Versatile Lock for Storage Units
Regular price $10.32 Sale
Keep important belongings and other household supplies safe and organized inside cabinets with the Jayco 0058270 OEM RV Cabinet Latch Catch! Constructed from heavy-duty materials, this latch catch is designed to offer enhanced security with its locking mechanism that ensures secure safekeeping of your valuables. It's created to be suitable for various cabinet doors and serves as a replacement to broken locks of different storage spaces. This Jayco cabinet latch catch comes in a gold finish that will beautifully coordinate the design of most cabinets.
_ HEAVY-DUTY HARDWARE - This latch catch features a durable construction that won't easily corrode or deteriorate, making it ideal to use on cabinets at your trailer.
_ DESIGNED FOR RV USE - Repair dysfunctional cabinet doors with this 0058270 Latch Catch that's specifically created for cabinets and storage spaces in your mobile home.
_ SECURE FASTENING - Ensure safekeeping of your valuable belongings and other household paraphernalia with this lock that securely fastens the doors of any cabinets.
_ ELEGANT GOLD FINISH - Featuring a durable construction coated with a glossy gold finish, this lock is guaranteed to complement the decor of most storage units.
_ EASY INSTALLATION - Replace dysfunctional cabinet locks at your mobile home with this latch catch lock that can easily be attached to surfaces with only a few screws.