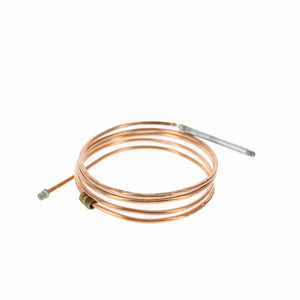 Norcold 617983 OEM RV Refrigerator Thermocouple - 3163 Unit & Model Configured
Regular price $35.93 Sale
"
Norcold has been providing the RV industry with modern, quality services and is currently one of the leading brands known in the United States; a brand proven to innovate bold products known for delivering superior and reliable performance continuously.
The Norcold 617983 Refrigerator Thermocouple is structured and precisely manufactured through a series of careful process, guaranteed to promote the benefits of quality and excellence in performance. Developed with complete compatibility for all Norcold 3163 refrigerator models. Engineered to ensure every system is working at its best, this replacement part guarantees the best performance of every system.
Experience worry-free travels with the whole family for more years to come and equip your mobile home with genuinely functional tools, parts, and accessories from Norcold!
" FULLY DEVELOPED STRUCTURE - Constructed from industrial grade and quality coated materials. Assembled to provide every user with the advantage of mobility and functionality.
MODEL AND UNIT FITMENT - Developed to fit all Norcold 3163 refrigerator models. Also made compatible with most makes and units from the same carrier.
ENHANCES SYSTEM PERFORMANCE - Engineered to promote enhanced support for every system. Designed to provide the necessary function, ensuring every system operates well in maximum performance.
ORIGINAL EQUIPMENT MANUFACTURER - This replacement part is a guaranteed OEM part designed to deliver you with a reliable and high-performing product.
SUPPLIES AND PARTS FOR MOTORHOMES - Manufactured with high-grade precision by Norcold Group. A full line of Norcold accessories and replacement parts are also available.