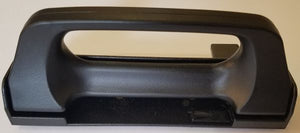 Norcold 621107 Refrigerator Upper LH/LWR RH Door Handle 1201
Regular price $46.99 Sale
Norcold has been providing the RV industry with modern, quality services and is currently one of the leading brands known in the United States; a brand proven to innovate bold products known for delivering superior and reliable performance continuously.

The Norcold Refrigerator Upper Left/Lower Right Door Handle is built to quality precision with carefully selected heavy-duty and high-grade materials, offering maximized durability and reliability over time. This refrigerator door handle is carefully designed to essentially work in RV refrigerators and provide you with a quality focused, simple, and trouble-free product. Developed to offer precise compatibility with multiple makes and models. Best fitted for 1201LR Series with Serial Number 300000 and above.

Experience worry-free travels with the whole family for more years to come and equip your mobile home with genuinely functional tools, parts, and accessories from Norcold!