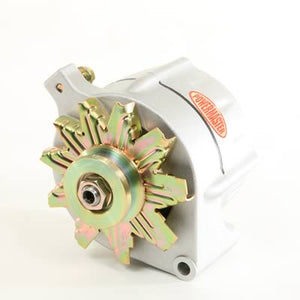 Powermaster Street Alternators 847141
Regular price $356.18 Sale
Brand:

Powermaster

Manufacturer's Part Number:8-47141
Part Type:Alternators and Generators
Product Line:

Powermaster Street Alternators

Advertised Amperage Output:150 amps
Voltage Compatibility:12
One-Wire Capable:Yes
Pulley Included:Yes
Pulley Style:V-belt
Alternator Case Style:Powermaster Custom
Regulator Included:Yes
Regulator Style:Internal
Belt Included:No
Alternator Brackets Included:No
Alternator Finish:Natural
Quantity:Sold individually.
Powermaster street alternators feature all of the quality construction and dependability the company is famous for. The "electrical generators" are available in a variety of amperages and styles, allowing you to choose the best model for your specific ride and the accessories you run. So whether you need an alternator for your truck, hot rod, musclecar, sport compact, or audio competition vehicle, Powermaster gives you the power you need to get it started and keep it going.