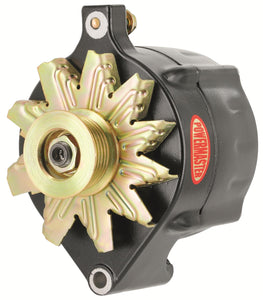 Powermaster Race Alternators 857140
Regular price $392.55 Sale
Brand:

Powermaster

Manufacturer's Part Number:8-57140
Part Type:Alternators and Generators
Product Line:

Powermaster Race Alternators

Advertised Amperage Output:150 amps
Voltage Compatibility:12
One-Wire Capable:Yes
Pulley Included:Yes
Pulley Style:Serpentine
Alternator Case Style:Powermaster Custom
Regulator Included:Yes
Regulator Style:Internal
Belt Included:No
Alternator Brackets Included:No
Alternator Finish:Black powdercoated
Quantity:Sold individually.
Powermaster race alternators supply horsepower for your ride by ensuring the electrical and ignition systems have enough voltage to operate properly. This means your battery stays fully charged and predictable—you don't have to worry about your car not starting at race time. They feature a variety of high-amperage ratings, one-wire hookup, a gold battery post, and a heat-dispersant coating. Some models also include a pulley. Order the alternator designed for your vehicle application.