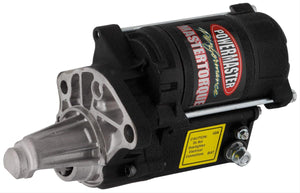 Powermaster Mastertorque Starters 9613
Regular price $334.55 Sale
Brand:

Powermaster

Manufacturer's Part Number:9613
Part Type:Starters
Product Line:

Powermaster Mastertorque Starters

Starter Style:Mini Denso
Adjustable Mounting Block:No
Starter Rotation:Standard
Starter Finish:Black painted
Maximum Recommended Compression Ratio:14.0:1
Gear Reduction Ratio:3.25:1
Mounting Block Material:Billet aluminum
Quantity:Sold individually.
With their gear-reduction drives, heavy-duty PowerMaster Mastertorque starters really crank out the power--180 ft.-lbs. of torque. So they can handle engines with compression ratios as high as 14.0:1. If your stock starter clears your oil pan, they will, too. Some will also clear kicked-out pans. These starters can be mounted in multiple orientations, and some will work inverted, with the solenoid down. They feature a black wrinkle finish and select models are available in a chrome plated finish.