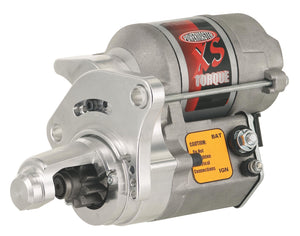 Powermaster XS Torque Starters 9523
Regular price $561.82 Sale
Brand:

Powermaster

Manufacturer's Part Number:9523
Part Type:Starters
Product Line:

Powermaster XS Torque Starters

Starter Style:Mini Denso
Adjustable Mounting Block:Yes
Starter Rotation:Standard
Starter Finish:Natural
Maximum Recommended Compression Ratio:18.0:1
Gear Reduction Ratio:4.40:1
Mounting Block Material:Billet aluminum
Quantity:Sold individually.
Notes:Nose cone included.
Powermaster's highly efficient XS Torque starters feature extra-powerful motors that churn out up to 200 lbs.-ft. of torque. Coupled with their 4.4:1 gear-reduction ratio, that equals reliable cranking power for engines, up to a whopping 18.0:1 compression ratio. These starters come with a billet adapter/mounting block for durability. They'll also clear your oil pan if the OE starter did. Some models are available in a chrome plated finish. Starter dyno test results are included. Order the replacement designed for your vehicle application.