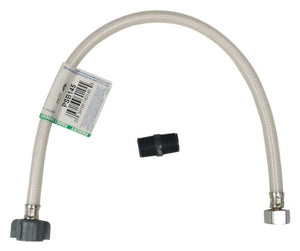 Thetford 28962 OEM RV Toilet Waterline Extension Kit - Aqua Magic V Unit Fitted
Regular price $31.99 Sale
"
Thetford has been innovating and offering mobile sanitary systems, refrigerators, cooking equipment, and toilet additives for more than 40 years in the world market. Growing through consistency and reliability, dedicated to continuously providing its consumers guaranteed satisfaction.
The Thetford 28962 Toilet Waterline Extension Kit is structured and precisely manufactured through a series of careful process, guaranteed to promote the benefits of quality and excellence in performance. Exclusively developed to offer complete compatibility with the Thetford Aqua Magic V toilet units, ensuring precision fitting to keep every component in proper function.
This high-grade replacement part is engineered to deliver consistent water flow through the vale for continuous delivery and functionality. Keeps every unit in a hygienic state for more comfortable use.
Replace old and faulty RV parts and experience more enjoyable travels with genuine replacement tools. Optimize the functionality of your motorhome with innovative solutions from the wide selection of Thetford accessories!
" FULLY DEVELOPED STRUCTURE - Constructed from industrial grade and quality coated materials. Assembled to provide every user the advantage of mobility and functionality.
MODEL AND UNIT FITMENT - Developed with precision fitting made to suit the build and structure of the Thetford Aqua Magic V toilet unit.
CONSISTENT WATER FLOW - Creates an effective connection to the water valve to deliver consistent and continuous water flow. Designed to provide the necessary function to ensure every unit is at its best.
ORIGINAL EQUIPMENT MANUFACTURER - This replacement part is a guaranteed OEM part designed to deliver you with a reliable and high-performing product.