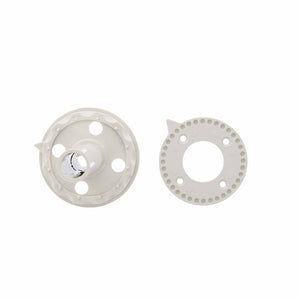 Winegard RP-6200 OEM RV Antenna Directional Handle Elevating Crank Kit - Ivory
"
Living a modern lifestyle amidst the beauty of mother nature is just the place to be. Watch your favorite TV shows in style as you achieve clear pictures from the comfort of your RV with perfectly functional tools, parts, and equipment from Winegard.
Designed from premium-quality materials, the Winegard RP-6200 RV TV Antenna Directional Handle Crank Kit has proven durability and longevity of use. This product is a genuine replacement part designed to provide sufficient support for every unit. This kit comes complete for every RV antenna needs including a directional handle, ceiling plate, 4 screws, a spring, and a decal.
You can't go wrong with Winegard as this brand has been leading in the RV antenna industry for more than 50 years and is continuously innovating quality solutions. Equip your vehicle with the right parts and tools to ensure maximum performance.
" IDEAL CRANK KIT - Keep your RV TV Antenna in optimal condition with this complete directional crank kit. Comes complete with a directional handle, ceiling plate, 4 screws, a spring, and decal.
STURDY AND DURABLE LIFESPAN - Manufactured from top-quality materials, allowing every user to have a product that delivers long-lasting functionality.
ORIGINAL EQUIPMENT MANUFACTURER - This close-to-the-original replacement part is a guaranteed OEM part designed to deliver you with a reliable and high-performing product.
SUPPLIES AND PARTS FOR MOTORHOMES - This item is an original product of Winegard. A full line of Winegard accessories and replacement parts are also available.